Defending Women's Premier Division champions, DHL Western Province, and the Border Ladies earned back-to-back wins in the competition in a gripping second round on Saturday, while the Cell C Sharks Women earned their first win of the season.
DHL Western Province scored five tries to one against the Blue Bulls Women – who were down to 12 players at a point due to their ill-discipline in Pretoria – for a 29-8 victory in Pretoria, while a strong first half by the Border Ladies laid the foundation for their 17-10 victory against the EP Queens in Port Elizabeth.
The Cell C Sharks Women, meanwhile, ground out a narrow 7-5 victory against the Boland Dames in a soaking wet Wellington.
DHL WP run in five tries to outplay the Blue Bulls Women
DHL Western Province showed their intent early on against the Blue Bulls Women at Loftus Versfeld in Pretoria as they opened the scoring in the 12th minute with a try by Felicia Jacobs (scrumhalf) from a pick-and-go following sustained pressure on attack.
Their lead was reduced to two points four minutes later as Blue Bulls Women's flyhalf Libbie Janse van Rensburg kicked a penalty goal.
The hosts were then dealt a massive blow as Lerato Makua (lock), Daphne Scheepers (centre) and captain Lalla Vazi (No 8) all received yellow cards within six minutes – two for high tackles and one for offside play close to the try-line – reducing them to 12 players.
The visitors capitalised on this with Sinazo Mcatshulwa (lock) dashing through a big hole in the defence, and the successful conversion by Vuyo Maqholo pushed them into a 12-3 lead at the break.
The Blue Bulls Women finally earned their first try in the 48th minute with Scheepers touching down after a well-timed pass by Janse van Rensburg, which closed the gap on the scoreboard to four points.
The visitors, however, cancelled this out in the 63rd minute as Jacobs snuck through for her second try after picking up the ball from the base of the ruck and dotting it down, and the conversion saw them take a 19-8 lead.
The Blue Bulls Women again found themselves under pressure going into the final 12 minutes as Tan Macingwane (hooker) received their fourth yellow card of the match, and this paved the way for Western Province's Simamkele Namba (winger) and Donelle Snyders (fullback) to score, which secured their bonus point.
The home side fought until the end, but they were unable to add to their score, which saw DHL WP seal a 29-8 victory.
Scorers:
DHL Western Province 29 (12) – Tries: Felicia Jacobs (2), Sinazo Mcatshulwa, Simamkele Namba, Donelle Snyders. Conversions: Vuyo Maqholo (2).
Blue Bulls Women 8 (3) – Try: Daphne Scheepers. Penalty goal: Libbie Janse Van Rensburg.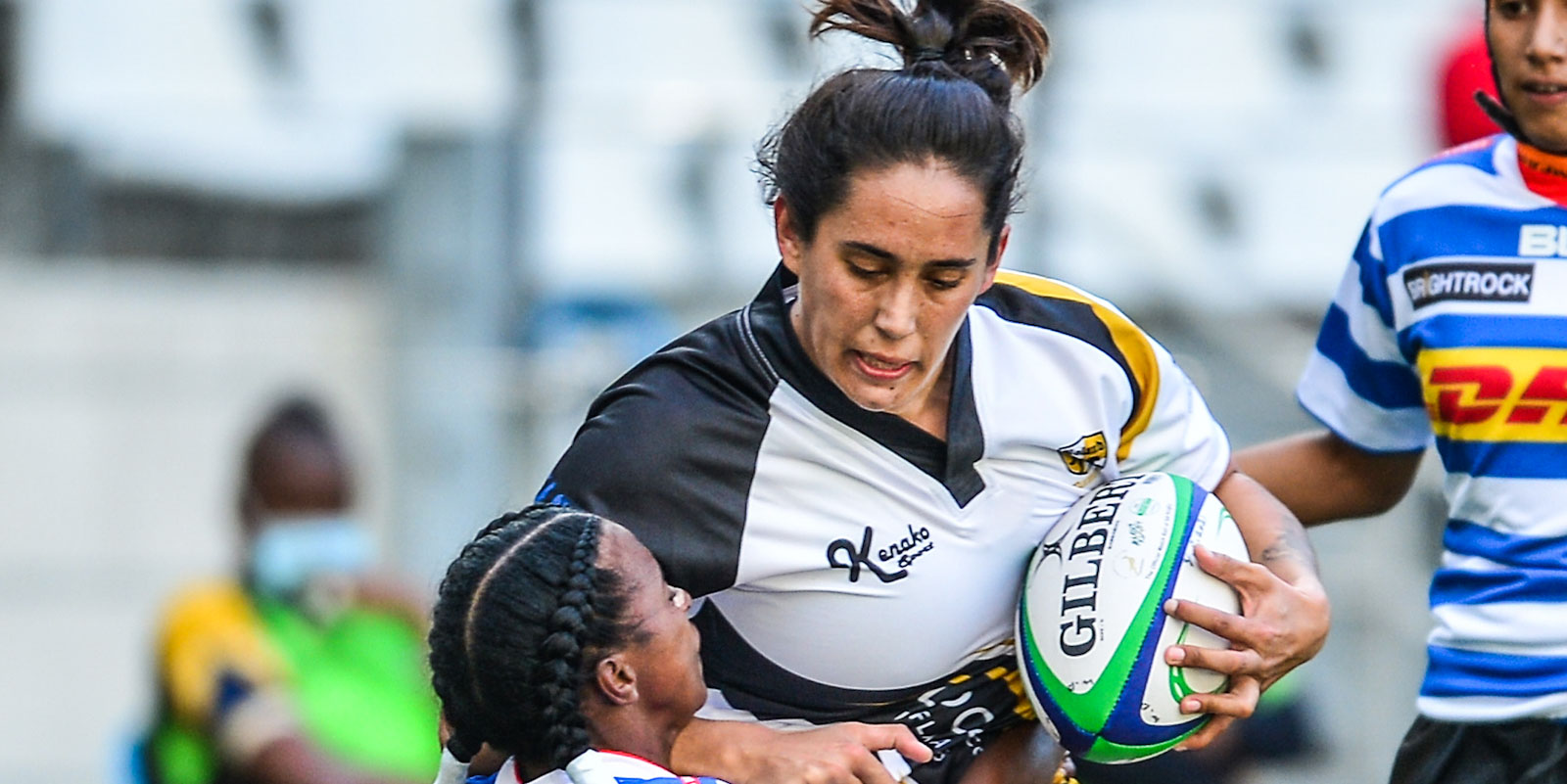 Elation as Cell C Sharks Women win in wet Wellington
The Cell C Sharks Women snuck a close 7-5 victory over a determined Boland Dames team on a soaking wet afternoon at the Boland Stadium in Wellington to record their first victory of the 2021 Women's Premier Division.
It was close and the home team could have won it at the end, but unfortunately a penalty goal attempt by Demi Nel (centre) just sailed below the crossbar to deny her team victory.
Boland Dames took a 5-0 lead midway through the first half, which they held onto until the break, courtesy of a try from Aseza Hele after a barnstorming run by the impressive Springbok Women's No 8.
It was one of a handful of highlights of the first half during which both teams struggled to get going, despite trying hard to string some attacking phases together.
This was mainly due to the terrible weather, with heavy rains, and some early-season rustiness that led to a slew of handling errors.
Both teams deserve credit for some great defence with a number of bone-crunching tackles often stopping players on the attack in their tracks.
The visitors started the second half like a house on fire and when Nothando Majozi (scrumhalf) found her way over the try-line after sustained pressure inside the Boland 22, with Mary Zulu (flyhalf) adding the extras, the Cell C Sharks Women took a 7-5 lead.
Although the Bolanders tried hard, with Hele especially strong with ball in hand, they were kept out by more good defence, while handling errors also cost them what could have been a well-deserved win.
Scorers:
Boland Dames 5 (5) – Try: Aseza Hele.
Cell C Sharks Women 7 (0) – Try: Nothando Majozi. Conversion: Mary Zulu.
Strong first half sees Border Ladies win in PE
The Border Ladies made a strong statement early on against the EP Queens at the Wolfson Stadium in Port Elizabeth as Sticks Lafutha (winger) crashed over for a try in the opening minutes and Sxobo Diliza (hooker) added another in the 29th minute as they made their presence felt on attack throughout the first half.
The 2019 finalists dominated possession and territory, and their forwards laid a solid foundation, which the team backed up with a determined defensive effort. This resulted in the home side only getting close to the try-line once in the half, while their only points in the first stanza were compliments of a penalty goal by Zenay Jordaan (flyhalf).
The Queens' finishing, however, let them down at times, as they were unable to capitalise on a number of additional scoring opportunities, which could have inflated their 10-0 halftime lead.
The second half proved much tighter with each side scoring a try, with Thando Hena (winger) crossing the chalk for the EP Queens and Lafutha earning her second for the Border Ladies, but fortunately for the home side their first half efforts came in handy as they secured a 17-10 victory.
Scorers:
EP Queens 10 (0) – Try: Thando Hena. Conversion: Zenay Jordaan. Penalty goal: Jordaan.
Border Ladies 17 (10) – Tries: Sxobo Diliza, Sticks Lafutha (2). Conversion: Teddy Nobanda.